December 2012: Simrac was invited to participate in a project arranged under European Union´s Life-Long Learning programme and it´s Leonardo Da Vinci sub programme. The project in question is called SIMTEB (Simulator-based Training for European bus drivers). More info on the project can be found by clicking here.

---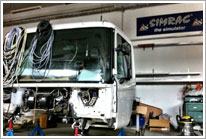 September 2012:
Action in Simrac new premises - new truck simulator in progress!

August 2012:
Team Simrac Finland Oy has moved into new premises.
Our new address is Pyrynkatu 4, 33900 Tampere (Finland).

Click and view images from our new premises
















---
December 2010

Many thanks to all our new and old customers and partners! All the best to all of you for the year to come!

August 2010

Etelä-Savon Koulutus Oy has chosen Team Simrac Finland Oy to deliver them a movable learning environment for logistics sector including a truck simulator

Etelä-Savon Koulutus Oy (www.esedu.fi) with education consortiums of Eastern Savo (www.samiedu.fi), North Karelia (www.pkky.fi), Savo (www.sakky.fi) and Upper Savo (www.ysao.fi) as it´s partners have chosen Team Simrac Finland Oy to deliver them a movable solution for educating truck drivers. The parties signed the contract on Friday 6th of August in Mikkeli. The system will be delivered to the customer in eight months.


The system consists of spreadable semi-trailer built for Team Simrac by Interkori Oy (www.interkori.fi). It includes a class room for eight students and houses the truck simulator built using Scania´s truck cabin in it is spreadable section of the trailer. One of the main criteria for the buyer was that the solution is movable due to the different locations of their branches. When built in a spreadable semi-trailer it is possible to move the whole system with a normal tractor and to be transferred basicly anywhere. A built in aggregate makes it possible also to use the system without outside electricity. The system will be used in the education of new beginning truck drivers as well as in the supplement education of the existing professionals.

Delegates from Etelä-Savon Koulutus Oy travelled around Europe to familiarize themselves with different simulator products and manufacturers currently in the market. The background work around the acquisition was in their own words massive. Coming to a decision itself was rather fast once the bids were recieved. The tender was published on March 12th 2010 and the decision was made on May 10th 2010. Based on examining and scoring of the bids recieved Etelä-Savon Koulutus Oy made the choise that Team Simrac would be the deliverer. Unfortunately the signing of the contract was postponed by appeal procedures considering the tender.

Etelä-Savon Koulutus Oy upholds the South Savo Vocational College which has about 2500 students in basic level vocational studies and over 5000 adult students in a year. The staff consists of a bit over 500 persons working in the fields of teaching and supporting roles. The educational establishment has stationary branches in Mikkeli, Pieksämäki and Juva. Eduation is also arranged widely in other rural districts.
---
February 2010


Team Simrac participated the Information & Initiative Days (I & I days) organized by the European Social partners, the European Transport Workers' Federation (ETF) for the employees, and the European Committee of UITP for the employers, with the collaboration of the AFT, in Bruxelles Belgium on February 4th and 5th. Among many great speakers our education simulator customers Mr. Aarno Lybeck from TTS and Mr. Jan Deman from FCBO had their turn at the speaker ´s podium. The event was by all means pleasant and interesting. Many thanks to all participants as well as the organizers.
---
August 2008
Bus & Truck simulators brochure is now available!
Read more info from our
Top of the Range simulators for drivers education, scenario training and research
(.pdf)
---
January 2007
A review of the education simulators


In the year 2006 we manufactured and delivered one truck simulator to our customer in Finland and two bus simulators to our customer in Belgium. All three simulators are to be used in educational purposes.
There are ongoing discussions about possible deals both in Finland and abroad.