September 2012:
Free entry for our new premises

We invite all people to get introduced our company and our services in free entry days which are organized at Monday 22nd November, Tuesday 23rd November and Thursday 25th November at 09am to 4.30 pm.

August 2012:
Team Simrac Finland Oy has moved into new premises.

Our new address is Pyrynkatu 4, 33900 Tampere (Finland).
Click and view images from our new premises















---

July 2011
Unfortunately a tradition that has lasted for 13 consecutive years will be broken this year as Simrac rallysimulator won´t be available for the audience at the Jyväskylän Paviljonki during the Neste Oil Rally 2011. However, Simrac Focus will be available at SS called Surkee (SS 13 / 18) near by the Parkkola -crossing.
Here is a link
to Google maps where the Parkkola -crossing is marked as a destination. Simrac Focus can be found from the facilities of the near by farm on Saturday July 30th. The address is Vanhamoksi 18, 41840 Moksi. Welcome!
In all, July has turned out be quite busy. The weekends were filled by stag party groups and the traditional "Open Door" -days held on Tuesdays and Wednesdays were quite popular too.
Top five of the "Open Door" -days on the Mutanen section of Ouninpohja was as follows:
1. Ilpo Suojala 2:20,99
2. Mika Rantala 2:25,50
3. Henri Holmala 2:33,82
4. Petri Sahramies 2:39,19
5. Kai Heinonen 2:42,01

Thanks to all visitors and participants!

---

June 2011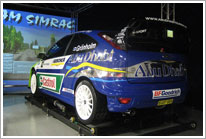 June started of pretty much like May. Bit slow in the beginning but busier towards the end of the month. Saturdays filled up quite quickly from stag party groups and unfortunately we weren´t able to find suiteble times for everyone. Just before Midsummer Team Simrac and Radio 957 kicked off a campaign in the spirit of "Open Door" -days. So to doors are open for anyone willing to test their skills on Tuesdays from 10:00 to 13:00 o´clock and Wednesdays from 14:00 to 17:00 o´clock starting from June 21st and lasting until the 27th of July. Welcome!
Many thanks to all visitors and event organizers!

---
May 2011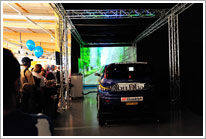 Simrac visited the Taitaja -event held in Kuopio with the new movable education environment and it´s proud new owners. Taitaja is the Finnish National Skills Competition in vocational skills and it is the biggest annual event within vocational education and training in Finland.
Simrac Focus visited Robit Rocktools facilities in a summer- happening arranged for their clients and staff.
Thanks to all participants, organizers and the staffs of companies operating at the Kehräämö facilities.
Many thanks to all visitors, participants and event organizers!

---
April 2011
Eight months of hard work is starting to near it´s finish. Simrac´s movable education environment was handed over to the client on April 1st. in Mikkeli. The user training continues in Mikkeli. A big Thank You to all participants in the project!
Simrac also participated in a Science Navigation -event held for students from different education levels and the stop at Simrac´s proved to be very popular.
Many thanks to all participants as well as the organizers and welcome again!
---
March 2011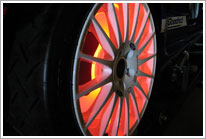 It´s time for the final push with the movable education environment project and also the user training was kick off.
The Rally simulator was also quite busy.
Many thanks to all participants as well as the organizers and welcome again!
---
February 2011
The rally side picked up it´s pace a bit in February and both Simrac Focus and Simrac Golf visited Nokian driving center in an event arranged for GM Opel salesmen. Unfortunately due a very busy schedule with the movable education environment project we were forced to skip the "Open Door"-days planned for February.
Many thanks to all participants as well as the organizers of the events.
---
January 2011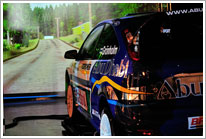 Happy New Year to everybody! The beginning of the year started of relatively slow on rally simulator side but the movable education environment project kept us very busy.
Many thanks to all visitors and event organizers!
---
More information:
-
Season 2010 news can be read by clicking here
-
Season 2009 news can be read by clicking here
-
Season 2008 news can be read by clicking here