January 2008

Simrac rally simulator have experienced software updates!

Legendary special stage of Ouninpohja is now available in winter conditions! Also you can find a whole single rally with special stages and transit sections! Do check it out!
---
April 2008


At the opening ceremony of Lentolan Öljynvaihtokeskus the customers were able to try our simulator on the legendary Ouninpohja stage. Thanks for everyone who took the challenge and good luck for Lentola Öljynvaihtokeskus for their new business!
---
May 2008: Emergency vehicle simulator


Simrac is planning an emergency vehicle simulator. Also young and promising Finnish ladies Judo Champion Nina Koivumäki took her chance to practice and relax with Simrac rally simulator. Congratulations for Nina for her success and may the force be with her in China!
Click to Ninas' website for more info!
---
August 2008 - Team Simrac provides new rally simulator

Team Simrac Finland Oy publishes its' brand new rally simulator in Rally Expo of WRC Finland at wednesday July 30th 2008. The simulator is called Simrac Focus WRC and it has got lots of new features - including remodelled legendary Ouninpohja special stage. Chassis is BP Ford Focus WRC'07 and it has been provided by english M-Sport team. The model is the same which Marcus Grönholm and his co-driver Timo Rautiainen used in World Rally Championship series at season 2007.
- As the technics evolves all the time we saw an opportunity to develope our rally simulator even more realistic. The technology in our latest simulator is brand new. It took eight months to build the simulator and it'll be placed to work by the side of our Simrac Golf rally simulator. Even there are no legendary Ouninpohja special stage in season 2008 edition of WRC the drivers can still feel the fibe in worlds' best special stage - with safe and enviroment saving, told GM of Team Simrac Hannu Kosonen.
Team Simrac Finland Oy is a family company which was formed at 1995. The company is especialized into manufacturing and developing car simulators.
Simrac Focus WRC is Evolution V and 9th simulator the company has developed and manufactured.
---
August 2008

The debut of Simrac Focus WRC in WRC Finland was a success. Drivers and spectators gave very positive feedback and the competition was very high level. Thanks for all who participated it.
Top-3 drivers:
1st Jussi Rasku time of 1:43,51
2nd Kai Bågman time of 1:44,02
3rd Jani Autio time of 1:47,30
Congratulations for the winners! Trophies are mailed to you!
---
September 2008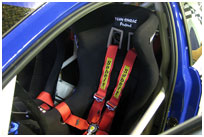 In WRC Finland we published our new rally simulator, Simrac Focus WRC which was put in use at our premises in Tampere. Furthermore the simulator was in use at opening of Sandvik Mining & Construction new workshop in Tampere. We also visited in Kausalan Pinnoite personel refreshment party with our simulator
We would like to share thanks for the drivers and event organizers.
---
October 2008

At October Simrac Focus WRC had a visit in a opening of Tampereen Autovaraosa expansion workshop. and Avant Tecno premises at Ylöjärvi. Also Simrac Golf was able to have a night out as it was put in use in Tammer-Diesel premises in Jämsä.
Furthermore there are lots of drivers measured their skills behind the steering whell in our premises at Tampere. We would like to share thanks for the drivers and event organizers.
---
November 2008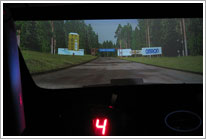 Pre-Christmas party season started with lively action. We also had a possibility to visit our Simrac Focus in Vantaa at Arctica Wholesale party. We would like to share thanks for the drivers and event organizers.
---
December 2008
Pre-Christmas party season continued with very busy moments. After a visit in Pakkala Konepaja we took the chance to have few moments of silence in Christmas and New Year. Thanks for everyone for season 2008 and hopefully we all have lots of success in 2009.