January 2009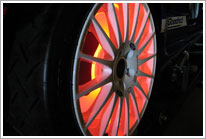 Year 2009 started from the point where previous was ended. Thanks for our clients to keep us busy. In first weeks we had a visit in Pohjanmaa Rakennuspelti and its' clients in Seinäjoki as they opened their new premises. We would like to share thanks for the drivers and event organizers.
Also legendary special stage of Ouninpohja experienced improvements with new data projector.
---
February 2009
Due new data projector our premises has gone into improvements on decorations. Our customers have given positive feedback for the updates we've done. Our intentions are to continue making improvements as soon as timetable gives us chances for it.
Simrac Golf had a visit in Car painting and repair J.Lindsted premises at Ylöjärvi.
We would like to share thanks for the drivers and event organizers.
---
March 2009

Final winter month of 2009 was a very busy for us. Thanks for all active clients for having a visit to our premises..
---
April, May and June 2009


In April, May and June our simulator was in good usage. Thanks for our new and old customers for participating! In May 7th our simulator had a visit to Tampere Automaa and its' Hyötyajoneuvopäivät. Many thanks for all visitors aswell as personel of Automaa.
---
July 2009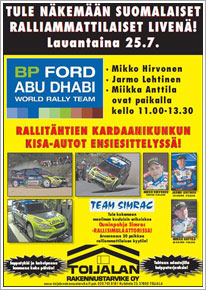 Due lots of requests we organized "open doors on every tuesday and wednesday". During the summer lots of drivers measured their speed in our rally simulator - thanks for everyone!
We also participated to motorsport weekend in Ideapark which was held Saturday 4th and Sunday 5th. For example Mikko Hirvonen showed his talent with our simulator. Thanks for everyone of their participation!
In 25th day we had a visit to Toijala Rakennustarvike. There were lots of people interested in our simulator like f.ex Jarmo Lehtinen, who is a co-driver for Mikko Hirvonen and Miikka Anttila, who is a co-driver for Jari-Matti Latvala. Thanks for everyone who had a visit!
---
September, October and November 2009
September, October and November continued as "business as usual" with a positive wibe considering the global economical situation. Many thanks for this to our new and already known customers. We also got to take Simrac Focus for a spin outside Tampere during these months.
From September 23rd to 25th 2009 we were at the Automation exhibition held at the exhibition center in Helsinki. Our host was one of our long time partners Sarlin Ltd.
On October 3rd we were invited as an activity for the guests to a 50th birthday party at Petäjävesi Rantapirtti.
On October 11th 2009 we visited car dealer Rinta-Jouppi in Lappeenranta.
Many thanks to all visitors and event organizers!
---

August 2009

As a tradition to Team Simrac, we participated once again the RallyExpo held during the WRC event of Finland in Jyväskylä. At the same time as Mikko Hirvonen, Jari-Matti Latvala and other Flying Finns showed their talent on the real special stages of Neste Oil Rally, a tough competition with Simrac Focus WRC -simulator was also held. Like all the previous years, the competition proved to be thight and swetty battle. After Sunday the final three was:
1st: Kai Bågman 2:14.54
2nd: Jussi Rasku 2:16.45
3rd: Ville Kivimaa 2:17.32
Congratulations for the winners and many thanks to all participants!
After the Neste Oil Rally things continued as usual.
On August 22nd Simrac Focus visited shopping center Elo in Ylöjärvi at "Crop harvesting-days". There were plenty of drivers and the fastest of the day was Sami Uosukainen with time 2:26.56.
Many thanks to all visitors and event organizers!