Make and unforgetable experience - Bring your guests or your company staff into worlds realistic rally simulator!

Even sitting in a rally simulator is an outstadning moment. The sound and vibration makes your sences ready. From the start of the stage you'll be receiving a rush of experience. Engine and transmission sounds are mixed with bumps of suspension, rustle of gravel and sometimes for crashing sounds. If you have been in a real rally car, you can experience same during the competition or test.
Legendary special stage of Ouninpohja - Absolutely fantastic computer animation achievement

Simrac simulator takes you into true rally driving experience. The special stage of Ouninpohja has been animated amazing accurately to a large wide screen which opens you from windscreen. Famous spots like "yellow house jump" are regonizable during the stage!
G-forces astonish you - jumps makes your stomach loose

For making the simulator as real as it can be the car does the job, not scenery. Our car moves with pneumatic surface. The driver feels jumps in his stomach and steering wheel hits your hands if you drive into ditch. Acceleration, brakings and bend driving causes G-forces to be as real as they can. If you have been playing computer rally games, you really need to experience this!
Rallying requires physics - After the stage you'll be sweat!

Experience is genuine also in physic side. Your pulse keeps on rolling as you become sweat during the stage. You can also sence the speed outside the car. Scenery is same as it is in nature. Car swings and bounces how driver tells it to do. Flames are thrown from exhaust pipe and brake disks are glown as red. Drivers who wait for their turn can spectate how team works inside the car via Television monitor.
Top rally drivers in developement work - Efficiency for driving education

Flying Finnish rally drivers have been developing our simulator. However the reality of our simulator has been a complite surprise for all. We have produced our simulator so genuine that top drivers recommendate us for rallying education. With our simulator you can boost your rallying routine into top speed. Also you can practice pace notes!
---
Evo IV, Simrac Focus WRC

Simracs' latest developement version of rally simulators is Simrac Focus WRC. Its' complitely new simulator with new chassis and technics as movement of the chassis has been increased and accelerated. M-Sport delivered Ford Focus WRC chassis is moved by electricity engines and therefore the reality of the simulators has taken a complitely new step forward.
---
Evo III, Simrac Golf

In millenium Simrac published 3rd Evolution version, which was called Simrac Golf. Publication was done in Swizerland by a customer. From there Simrac travelled into Paris. After few improvements and modifications Simrac Golf was taken into public service in 2001. Compared previous versions driving friction was done now with electric engine. Eero Pajarre made virtual physic model which helped Simrac to create legendary Ouninpohja special stage. Therefore Simrac could now give up its' addiction to computer games. Therefore Simrac could now develope the soft- and hardware into specified direction.
Movements for pressure controlled basis were nearly same as its' previous model. However sideways swing was grown up till 1 metres a side. It helped Simrac to provide more accurate and realistic rally car movements.
From the first version ("Hetekka") until this point on Simrac has focused their products to be so called active simulators. It means everything the device does is an effect of driver and what he does inside the cabin. Guidance, acceleration, braking and shifting are complitely controlled by the driver (or uncontrolled).
From season 2000 on has Simrac Golf been in active service around Finland and abroad. According Finnish patent and register control Simrac Golf is unique simulator in a world.
We're pleased to tell you that the people who have experienced Simrac Golf simulator, have been very happy for their experience
---
Evo II, Simrac S40

Experiences gained from Micra Simrac build second evolution rally simulator version called S40. As the name tells you, the hull was provided by Volvo S40, which was acquired from Swedish Volvo factory with a help of Autoyhtymä J. Kovanen.
Evo II included satefy chassis. Internal parts were like a rally car. As the technology developed more function friction board which was controlled by control unit and air pressure. Due new attributes Simrac S40 could move 30 cm in up-down, 30cm front-back directions. In sideways the rear end of the car could swing approx 70cm in a side.
As a scenery Simrac used mainly computer games like Colin McRae Rally.
Simrac S40 was on tour in Finland and abroad for several years. Those years provided much memories as it was time to move on and build 3rd evolution version.
Simrac S40 is in service and is updated to include legendary Ouninpohja special stage.
---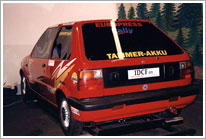 Simrac-rally simulator Evo I, Simrac Micra

Our first simulator build inside a car has stept from time to eternity a while ago. The chassis was from Nissan Micra which included first air pressure guided traction board. Also friction for driving control was done with air pressure. Scenery was provided by Europress Rally Championship computer game.
Due fear of extra weight Simrac didn't provide safety chassis, which was proven as a mistake. About 500 hours of usage the hull of Micra was broken and cut into two pieces.